Golden Gate Fields
Picturesque views of the San Francisco Bay and visual proximity to multiple national landmarks make Golden Gate Fields a unique facility for the public to enjoy the majesty of Thoroughbred racing.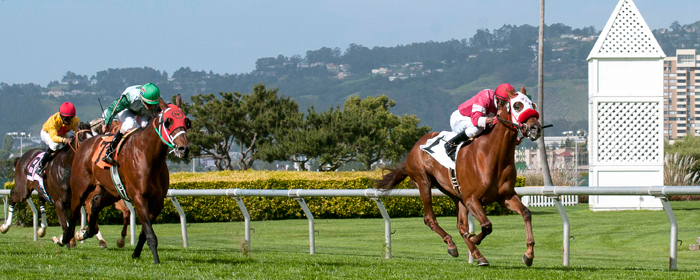 CURRENT WEATHER
Contact Info
1100 Eastshore Highway
Berkeley, CA 94710
Phone: (510) 559-7300
Golden Gate Fields has a longstanding history with its inaugural meet commencing in 1941. Over the years many amazing horses and jockeys have graced its track, such as Noor and Citation who ended their remarkable rivalry in the 1950 Golden Gate Handicap. Additionally, Golden Gate Fields is home to the winningest jockey of all time, Russell Baze.
Facilities include Golden Gate Field's premier dining experience at the Turf Club Restaurant, which offers an expansive track view as well as an exceptional view of the San Francisco Bay. In addition to its visual pleasures the restaurant offers a wide variety of fine cuisine and wine. The combination of breath taking views, excellent dining, incredible racing action, and classic atmosphere make for an unforgettable day at the races.
Golden Gate Fields is located 11 miles east of San Francisco and is only a short drive from the Napa Valley. Live racing is held in the spring beginning in May and running through June allowing patrons to take advantage of the temperate weather and subtle bay breeze. Additionally a fall meet starts in late October and continues through January. Live racing takes place on Wednesday through Sunday and on Monday holidays. Golden Gate Fields offers year round simulcast of live races throughout the country.