The Big Fresno Fair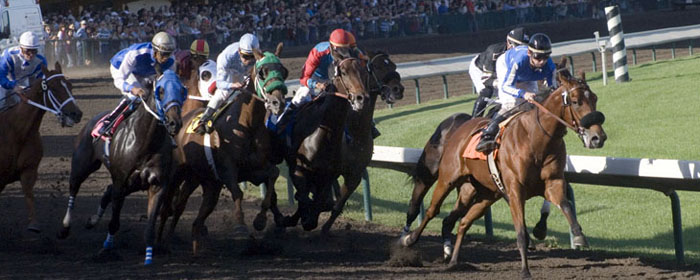 CURRENT WEATHER
Contact Info
1121 S Chance Avenue
Fresno, CA 93702
Phone: (559) 650-3247
Traditionally the final stop on the Northern California Fair Circuit, the Big Fresno Fair was established in 1882 by a group of Fresno businessmen and professionals serving as members on the Farm Bureau and Chamber of Commerce. The groups collectively raised a total of $25,000 and purchased 100-acres of land.
Two years later the Association incorporated horse racing into the daily activities. In 1941 Fresno offered its first pari-mutuel horse-racing meeting. During the war years, racing at Fresno was interrupted, but returned to stay in 1948.
The Fresno Fair built a new VIP area in the Grandstand complete with state-of-the-art plasma TVs and projectors. When Fresno is not conducting live racing, the room serves as an upgrade for simulcast patrons.
Fresno is one of the first tracks in the United States to reach out to Spanish language community both locally and via simulcast by offering audio of the race calls in both English and Spanish.