Sonoma County Fair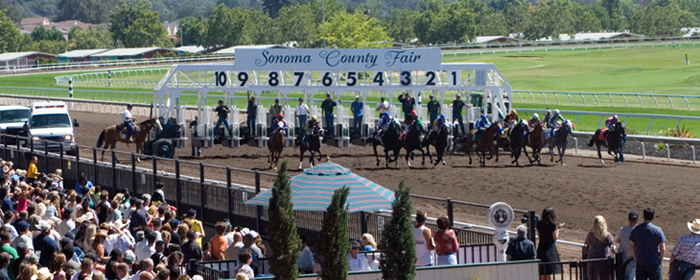 CURRENT WEATHER
Contact Info
1350 Bennett Valley Road
Santa Rosa, CA 95404
Phone: (707) 545-4200
The first recorded fair in Sonoma County's history was a single day display, held on the Santa Rosa Courthouse Plaza in October 1855. In 1879, a 90-acre portion of the present Sonoma County Fairgrounds was acquired by a group who accessed a levy on its members to provide funds for the construction of a one-mile track complete with stalls, grandstand, and other improvements.
Santa Rosa's Wine Country Racing features the best connections in Northern California racing. The most famous of these was Cavonnier who won his first race as a two-year-old right here at Santa Rosa, went on to win the Santa Anita Derby, and just missed winning the Kentucky Derby by a short nose.
In addition to featuring a one-mile dirt oval, Construction of a turf course at Santa Rosa began in Spring 2004. The official groundbreaking was held April 8, 2004, with turf racing to be offered at the 2005 meeting. The course will be built with the capacity for two rail settings and several different kinds of grass.
When not enjoying the races, spectators can escape to the Sonoma County Fair's Hall of Flowers. The exhibit, one of the largest flower shows in the country, features an elaborate theme each year.