CA Racing News
Thousand Words Pulls Upset in Del Mar's Shared Belief
Saturday, August 1st, 2020
Provided by Del Mar Thoroughbred Club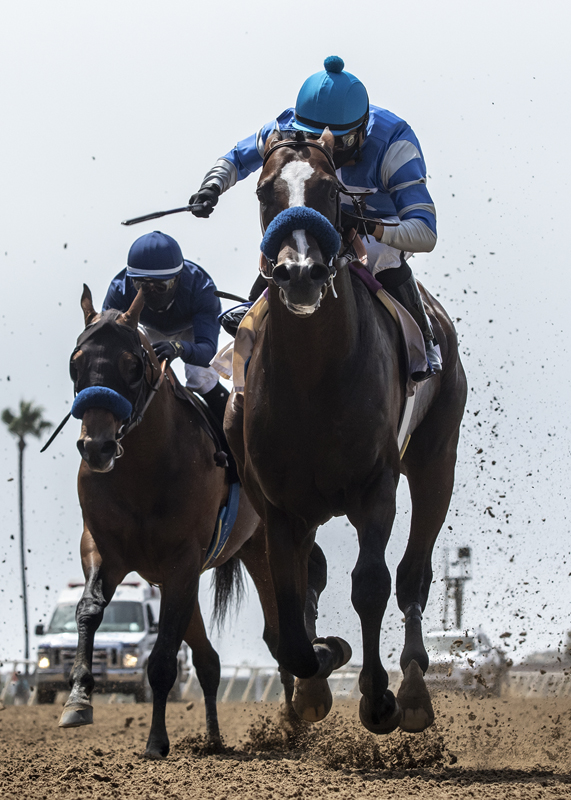 Thousand Words © Benoit Photo
Albaugh Family Stables and Spendthrift Farm's Thousand Words made every pole a winner Saturday at Del Mar in upsetting the $100,000 Shared Belief Stakes by three-quarters of a length. In the process, he may have bought himself a ticket to the 2020 running of the Kentucky Derby.
The Pioneerof the Nile colt, ridden by Abel Cedillo and trained by Bob Baffert, took the lead right out of the gate and held off all challenges, including one from the 1-5 favorite Honor A.P. under Mike Smith. The mile and one-sixteenth feature went with only four runners when two of its 3-year-olds -- Uncle Chuck and Anneau d'Or -- were scratched Saturday morning.
With the victory, Thousand Words earned 50 Kentucky Derby points and made himself eligible to start in the Run for the Roses on September 5, if his connections so choose. He's currently in the top dozen for the mile and a quarter. Honor A.P. earned 20 points and now has 140 points, third best on the list. As many as 20 horses can start in the Kentucky Derby.
Thousand Words covered the distance in 1:43.85 and returned $20.40 and $3.40. Honor A.P. returned $2.10 to place. There was no show betting.
John Sondereker's Kiss Today Goodbye finished third and Magnier, Tabor or Smith, et al's Cezanne was fourth and last.
Thousand Words earned $60,000 for his tally and pushed his bankroll to $327,000, after winning his fourth race in his seventh start.
---
ABEL CEDILLO (Thousand Words) -- "He (trainer Bob Baffert) just told me to warm him up real well, then get him out of there. Then see what happens. He broke well and I saw I could take the lead, so I did. He was going along there steady, steady, steady. Then we got it done."
MIKE SMITH (Honor A.P., second) – "He ran well, but we're disappointed he didn't win. I haven't been able to get on him in the mornings and I think that's made a difference. He's just been going along there not doing much in the mornings. I need to be on him and get more out of him. But that's the way it is now; that's just the way it is. This distance (mile and one-sixteenth) is too short for him, too. Just not his day."
---
BOB BAFFERT (Thousand Words, winner) – "I told Abel (Cedillo) to jump him out of there and I thought he and Cezanne would be 1-2. Turning for home I could tell that Honor A.P. wasn't running like he usually does. Cezanne got really tired, but Thousand Words … I could tell when we got down here that he was a different horse from Los Alamitos and the real Thousand Words showed up today. His whole mind changed. His color has changed. He had soured out on me, but we got him going the right way. I think he earned his way to the Derby."
---
FRACTIONS: :23.89 :47.83 1:12.33 1:37.44 1:43.85
The stakes win is the third of the meet for rider Cedillo, but his first in the Shared Belief. He now has five stakes wins at Del Mar.
The stakes win is the second of the meet for trainer Baffert, but his eighth in the Shared Belief. He now has 135 stakes wins at Del Mar, far and away the most by any trainer.
Thousand Words is owned by the Albaugh Family Stables of Ankeny, IA, and Spendthrift Farm of Lexington, KY.