CA Racing News
Stable Notes Nov 19, 2017
Sunday, November 19th, 2017
Provided by Del Mar Thoroughbred Club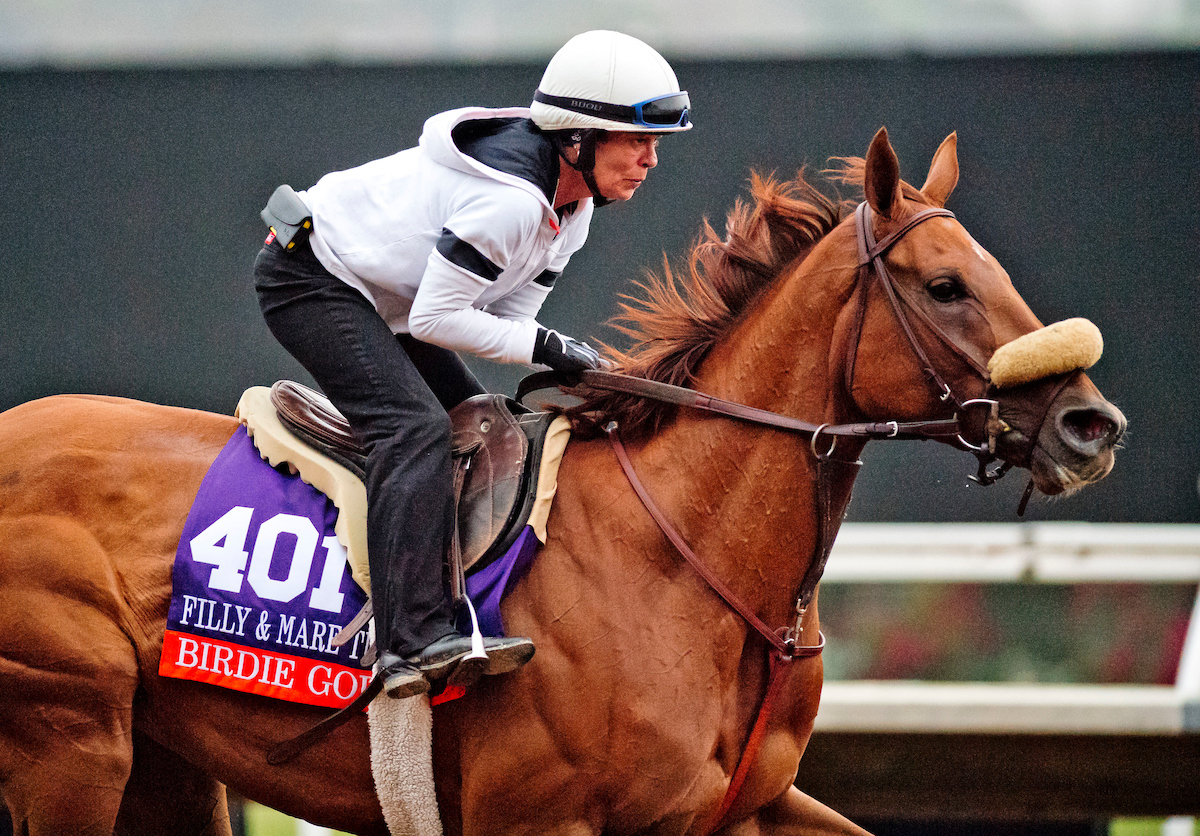 Birdie Gold © Eclipse Sportswire
RED CARPET COULD BE PLACE FOR PERUVIAN IMPORT TO STRUT
On June 25th at the Hipodromo de Monterrico race track in Lima, Peru, Birdie Gold, a five-year-old Kentucky-bred daughter of Birdstone, won the Grade I Classico Pamplona.
Thereby setting off a chain of events that has led to Birdie Gold being set to run in Thursday's Grade III $100,000 Red Carpet Handicap, the first of eight graded stakes, with purses totaling $1.4 million, over the final four days of the Bing Crosby Fall meeting.
The Classico Pamplona was a "Win and You're In" event for the $2 million Breeders' Cup Filly & Mare Turf at Del Mar on November 3. And owner Bernardo Alvarez Calderon knew exactly what to do with a horse that had earned an expenses-paid opportunity to compete in a world championship race.
"Mr. Calderon had sent me a horse for the 2014 Breeders' Cup named Valient Emilia in a similar situation," trainer Gary Mandella said Sunday morning. "She had won the qualifier for the Breeders' Cup in Peru. So we had established a business relationship. He uses Michael Matz on the East Coast and me when the Breeders' Cup is on the West Coast."
Birdie Gold was never a factor in the 1 1/8-mile Filly & Mare Turf, finishing 12th of 14 under Mike Smith in a race won by Wuheida.
"We took a shot and it didn't work out quite as well as we'd hoped for, but I thought she ran well considering the depth and talent of the field," Mandella said. "And I also think we learned a bit about this mare. I think she needs further than a mile and an eighth and I think the distance ( 1 3/8 miles) of the Red Carpet is going to be better for her. Eleven furlongs, instead of nine, I think is going to help her."
Birdie Gold, a winner of four of five starts in Peru before being sent to North America, came out of the race in good order.
"What I was really pleased about was the way she bounced out of the Breeders' Cup race," Mandella said. "She won her qualifier then had to ship here immediately. There's a lot of changes that are part of (having) horses come from the Southern Hemisphere. It's a much bigger adjustment than from France or England because you're changing hemispheres and bodies go through a lot of changes.
"She didn't take the race that hard. She bounced right out of it, she's happy and I thought she was doing so well it was worth going back on short rest."
Birdie Gold worked four furlongs in :48.40 on Saturday, second-best of 16 at the distance here.
"Her breezes on turf had all been good, but her breeze on dirt (Saturday) was better than any on dirt before the Breeders' Cup, so that was encouraging too," Mandella said. "We thought it was a good thing to try (the Red Carpet) in part because there aren't that many 11-furlong (1 3/8 miles) races for mares in California. We don't get to do this that often. The East Coast, there's a nice program. Here, if you have a mare like her there's not that many opportunities without shipping, or running against the boys."
The field from the rail: Laseen (Tiago Pereira), Dynamic Mizzes (Gary Stevens), Evo Campo (Rafael Bejarano), Victress (Stewart Elliott), La Manta Gris (Kent Desormeaux), Kiss Me Now (Brice Blanc), Responsibleforlove (Joe Talamo), Do the Dance (Tyler Baze), Galileo's Song (Mike Smith), Earring (Drayden Van Dyke), Birdie Gold (Mario Gutierrez), Domestic Vintage (Kyle Frey), How Unusual (Corey Nakatani) and Lottie (Flavien Prat).
The Red Carpet will go as the sixth on an eight-race Thanksgiving Day program with an early (11 a.m.) first post to accommodate fans' holiday plans.
---
NINE TO GO IN FRIDAY'S HOLLYWOOD TURF CUP
A field of nine was entered Sunday for Friday's Grade II $200,000 Hollywood Turf Cup. Among them is one supplemental entrant that could have an effect on the field for the Red Carpet Handicap one day earlier.
Trainer Graham Motion, not enamored with the outside post in a field of 14 drawn by his 4-year-old filly Lottie in the Red Carpet, supplemented the Kentucky-bred daughter of Arch to the Turf Cup, even though that means running against XX males and going an eighth of a mile farther than the Red Carpet in the 1 ½-mile Turf Cup.
Lottie, owned by Jack R. Swain III, has one win from seven starts in 2017, an allowance at Belmont Park, and has been training at Motion's facility in Fair Hill Maryland.
The field from the rail: Chicago Style (Drayden Van Dyke), Lottie (Rafael Bejarano), Flamboyant (Brice Blanc), Tequila Joe (Flavien Prat), Infobedad (Joe Talamo), Prince of Arabia (Tiago Pereira), Prime Attraction (Victor Espinoza), Manitoulin (Mike Smith) and Inordinate (Corey Nakatani).
---
ROMAN, DESORMEAUX CLOSE THE GAP ON PRAT; MILLER EXTENDS LEAD
Apprentice Evin Roman and Hall of Fame rider Kent Desormeaux notched two wins each on Saturday to inch closer to meet leader Flavien Prat in the standings.
Prat notched his 14th win in the 11 days of the Bing Crosby session aboard favored Go On Mary ($5.80) in the seventh race. Roman rang up Nos. 10 and 11 with Kiss of Dahpespe ($9.40) in the third and favored Painting Corners ($7.60) in the sixth.
Desormeaux chalked up Nos. 8 and 9 with Big League ($6.60) in the second and Harbour Master ($6.00) in the eighth to move one in front of Tyler Baze for third place.
Peter Miller gave Desormeaux a leg up on Big League and did the same for Roman on Painting Corners to increase his meet-leading total to 13 and, in defense of his 2016 Crosby title, open up a six-win advantage over Jerry Hollendorfer.
---
CLOSERS -- Mike Pegram, Karl Watson, and Paul Weitman's Hoppertunity hopes to duplicate his effort from 2014 and become only the fourth two-time winner of Friday's 143rd running of the $500,000 Clark Handicap Presented by Norton Healthcare (Grade I) at Churchill Downs. "I'll never forget when he won the 2014 Clark," trainer Bob Baffert said. "He's back and doing well. He's always been right there all the time. He's made $4 million by being right there and has always been a barn favorite. It sounds like it will be a tough Clark so it won't be a walk in the park by any means." Hoppertunity finished fourth in both the 2015 and 2016 Pacific Classics … Selected workouts from Santa Anita and Del Mar on Sunday morning: Santa Anita – Bolo (4f, :49.00), Hard Aces (4f, :49.20), Hoppertunity (4f, :47.20), Irish Freedom (4f, :47.20), Unique Bella (4f, :46.60), He Will (5f, 1:02.40), Sharp Samurai (5f, 1:02.20), Infobedad (6f, 1:16.60), Responsibleforlove (4f turf :50.40); Del Mar – Show It N Moe It (3f, :36.40), Donworth (4f, :50.20), Earring (4f, :47.80), Victress (3f turf, :38.40), Evo Campo (4f turf, :50.00), Flamboyant (:4f turf, :49.40), Thundering Sky (4f turf, :51.60), Cambodia (5f turf, :59.80), Channel Maker (5f turf, 1:01.20), Hunt (5f turf, 1:01.80), Nodiac (5f turf 1:03.80), Bowies Hero (6f turf, 1:15.40).
---
DEL MAR STATISTICS
Jockey Standings
(Current Through Saturday, November 18, 2017 Inclusive)
| | | | | | | | |
| --- | --- | --- | --- | --- | --- | --- | --- |
| Jockey | Mts | 1st | 2nd | 3rd | Win% | In-money% | Money Won |
| Flavien Prat | 60 | 14 | 6 | 8 | 23% | 47% | $1,913,100 |
| Evin Roman | 60 | 11 | 3 | 10 | 18% | 40% | $360,338 |
| Kent Desormeaux | 33 | 9 | 3 | 4 | 27% | 48% | $1,416,000 |
| Tyler Baze | 59 | 7 | 8 | 5 | 12% | 34% | $366,690 |
| Rafael Bejarano | 36 | 6 | 7 | 3 | 17% | 44% | $347,213 |
| Drayden Van Dyke | 46 | 6 | 6 | 3 | 13% | 33% | $567,829 |
| John Velazquez | 14 | 5 | 0 | 1 | 36% | 43% | $2,612,535 |
| Mario Gutierrez | 40 | 4 | 5 | 4 | 10% | 33% | $276,989 |
| Martin Pedroza | 18 | 3 | 6 | 1 | 17% | 56% | $108,150 |
| Corey Nakatani | 30 | 3 | 5 | 4 | 10% | 40% | $526,574 |
Trainer Standings
(Current Through Saturday, November 18, 2017 Inclusive)
| | | | | | | | |
| --- | --- | --- | --- | --- | --- | --- | --- |
| Trainer | Sts | 1st | 2nd | 3rd | Win% | In-money% | Money Won |
| Peter Miller | 40 | 13 | 6 | 7 | 33% | 65% | $2,010,448 |
| Jerry Hollendorfer | 29 | 7 | 2 | 4 | 24% | 45% | $833,895 |
| Doug F. O'Neill | 41 | 6 | 1 | 5 | 15% | 29% | $315,399 |
| Philip D'Amato | 37 | 5 | 6 | 4 | 14% | 41% | $264,870 |
| Vladimir Cerin | 17 | 4 | 5 | 1 | 24% | 59% | $117,064 |
| Richard Baltas | 24 | 3 | 3 | 4 | 13% | 42% | $140,319 |
| Eddie Truman | 4 | 3 | 0 | 0 | 75% | 75% | $66,045 |
| Bob Baffert | 21 | 2 | 6 | 1 | 10% | 43% | $2,920,845 |
| James M. Cassidy | 13 | 2 | 2 | 4 | 15% | 62% | $107,818 |
| Aidan P. O'Brien | 14 | 2 | 2 | 2 | 14% | 43% | $2,030,000 |
Winning Favorites Report
(Current Through Saturday, November 18, 2017 Inclusive)
Winning favorites -- 41 out of 99 -- 41.41%
Winning favorites on dirt -- 18 out of 55 -- 32.73%
Winning favorites on turf -- 23 out of 44 -- 52.27%
Winning odds-on favorites -- 0 out of 6 -- 0.00%
In-the-Money favorites -- 69 out of 99 -- 69.70%
In-the-Money odds-on favorites -- 4 out of 6 -- 66.67%