CA Racing News
Stable Notes July 21, 2019
Sunday, July 21st, 2019
Provided by Del Mar Thoroughbred Club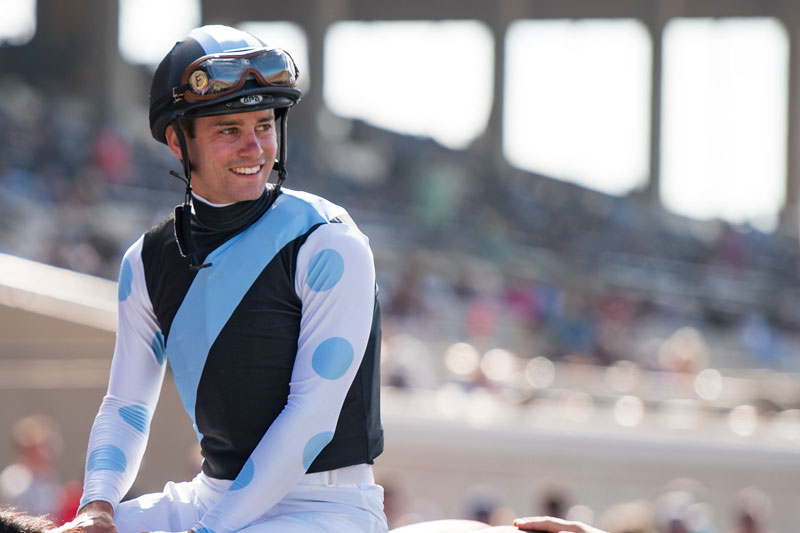 Flavien prat
PRAT TRAVELS FOR TRIPLE CROWN RIDE WHILE BALTAS STAYS HOME
Packing two wins in 2019 Triple Crown events, one each in America and Canada, jockey Flavien Prat will journey on Monday for Fort Erie, Ontario and Tuesday's Prince of Wales Stakes, second jewel of the Canadian crown.
Prat won the Kentucky Derby when Country House was elevated from second via the disqualification of Maximum Security in May. In June, he piloted One Bad Boy - trained by Southern California-based Richard Baltas - to an outright victory in the Queen's Plate, first leg of the Canadian crown, at Woodbine.
So Prat will travel to Canada on Monday, ride the race Tuesday and be back at Del Mar on Wednesday where he is scheduled to be aboard five mounts in a seven-race card.
And Baltas?
"I'm staying here," Baltas said outside his Del Mar stable Saturday morning. "I didn't go to the first one either. I've got 55 horses here and 55 horses more at San Luis Rey Downs. I've got an assistant trainer there with one horse.
"If he wins, I might go to the third one, but we're running 4-5-6 a day, so I have to be here." Baltas has four scheduled starters Wednesday.
One Bad Boy, a son of Twirling Candy owned by Stephen A. Young's Sayjay Racing, Greg Hall and partners, broke his maiden in his third start in April at Santa Anita under Joel Rosario. Prat took over for a runner-up finish in the Alcatraz at Golden Gate Fields before the decision was made to enter the first leg of the Canadian Triple Crown at Woodbine on June 29.
In a field of 14, One Bad Boy went wire-to-wire, covering 1 ¼ miles on the synthetic surface in 2:02.80 and winning by 3 ½ lengths. The victory made Prat the first jockey to complete a Kentucky Derby-Queen's Plate double since Kent Desormeaux in 1998. Desormeaux won the Derby with Real Quiet and the Plate with Archer's Bay.
"The Queen's Plate is 165 years old, actually older than the Kentucky Derby, so it's an important race," Prat's agent Derek Lawson points out. "It was tough for Flavien to fix in his mind that he actually won the Derby because of the disqualification. You want to win it by riding past the wire first. So the Queen's Plate was very important because he won it outright. It's a little thing, but it's important to an athlete."
One Bad Boy faces only four rivals and is the 7-5 morning line favorite for the Prince of Wales. A win would set up a shot at the Triple Crown in the Breeders' Stakes in August at Woodbine. The Candian Triple Crown races are run on three different surfaces with the order being synthetic, dirt and then grass.
"If he wins, I'll probably go for the third one," Baltas said.
---
FAMILIAR NAMES TOP STANDINGS AS FIRST WEEK DRAWS TO A CLOSE
It's the usual suspects lined up at the top of the jockey and trainer standings entering Sunday's final day of the meeting's first week.
Flavien Prat and Drayden Van Dyke are 1-2, as they were through most of the 2018 season before Van Dyke prevailed for his first Southern California circuit title. Prat has seven wins, three of them in stakes, from 20 mounts through the first four days. Van Dyke has five wins from 17 mounts.
Peter Miller and Doug O'Neill, who have combined for 11 training titles (Summer and Fall) over the years, are tied with three wins each. They are only one victory ahead of a group of seven - Richard Baltas, Luis Mendez, John Sadler, Steve Sherman, Jeff Mullins, Jeff Bonde and Ron Ellis - with two wins each.
---
SADLER CONCLUDES TIME WASN'T THE ESSENCE OF SAN DIEGO WIN
Catalina Cruiser went wire-to-wire in winning the San Diego Handicap for the second straight year. It was the same race scenario but a markedly slower time.
The 2018 splits: :23.07, :47.20, 1:11.64, 1:36.52 leading to a final of 1:42.95.
The 2019 splits: :24.52, :48.94, 1:13.04, 1:37.71 leading to a final of 1:44.20.
Not to worry, said trainer John Sadler.
"When you're 1-to-9 there's a lot of conversation about style points and things like that, but he was comfortable all the way," Sadler said. "The fractions were slow, but this is not a fast track."
Sadler is one win away from tying Bobby Frankel for fourth place on the track's all-time list for trainer stakes wins at 70. Sadler has favored Catapult (morning line 2-1) in the Eddie Read and Higher Power (5-2) in the Wickerr with potential to add to two stakes in the meeting's first four days.
---
DIRT'S NEW, BUT NOT UNPRECEDENTED, FOR ITSINTHEPOST
Turf racing has been very good everywhere but Del Mar for Jeff Mullins-trained Itsinthepost. The 7-year-old French bred gelding has made 37 of 38 career starts on grass and made all but $40,000 of his $1,243,902 in career earnings and won five graded stakes on the stuff in the last two years. His Del Mar record in that time: 0-for-4 with a runner-up in the 2017 Del Mar Handicap being the best result.
So Mullins will be trying something different on Wednesday when he saddles Itsinthepost for the Grade III $100,000 Cougar II Handicap at 1 ½ miles on the main track.
"He's run on it before," Mullins pointed out Sunday morning. "Right after I got him a race came off the turf and he ran second. He trains on it (dirt) all the time and he's never run that well on the turf here, so we thought we'd try him."
The Cougar II has been used as a stepping stone to the $1 million TVG Pacific Classic, most notably by Bob Baffert with Richard's Kid, but Mullins said that's not in the plans for his horse. The 1 ¼-mile Pacific Classic is "too short," Mullins said.
The Cougar II field from the rail: Premium Forest (Kyle Frey), Itsinthepost (Drayden Van Dyke), Zestful (Abel Cedillo), For The Top (Joe Talamo), Original Intent (Assael Espinoza), Morse Code (Edwin Maldonado) and Campaign (Rafael Bejarano).
---
CLOSERS – The racing office expected a sizeable field for Friday's $150,000 California Dreamin' Stakes and got it. Eleven were entered for the 1 1/16 mile turf race for older Cal-breds… Sunday's seventh race maiden special weight, which drew seven first-time starters, includes two of special intrigue. Defense Wins, a son of Flatter who was a $175,000 March purchase, is in part owned by Rick Pitino and was named by the former Kentucky and Louisville basketball coach for his philosophy about that game. Bronn, an $85,000 purchase in October is trained by Hall of Famer Bob Baffert for his wife Jill. Baffert turned down a $400,000 offer for the son of Conveyance … Super mare Vasilika, winner of four straight graded stakes at Santa Anita to start her 2019 campaign, worked six furlongs in 1:16.80 on the turf course Sunday morning under exercise rider Edgar Rodriguez. "Finished up strongly, looked very happy out there," trainer Dan Ward said via text … Selected works from 215 on dirt and 24 on grass officially timed Sunday morning: Dirt - Big Score (3f, :37.00), Test the Water (3f, :34.20), Smiling Angelo (5f, :59.80), Turf - Acclimate (5f, 1:03.40), Elysee's World (5f, 1:01.60), Storm the Hill (5f, 1:02.80), What a View (5f, 1:02.40), Majestic Eagle (56f, 1:15.40), Toinette (6f, 1:15.20) and Vasilika (1:16.80).