CA Racing News
Stable Notes July 20, 2019
Saturday, July 20th, 2019
Provided by Del Mar Thoroughbred Club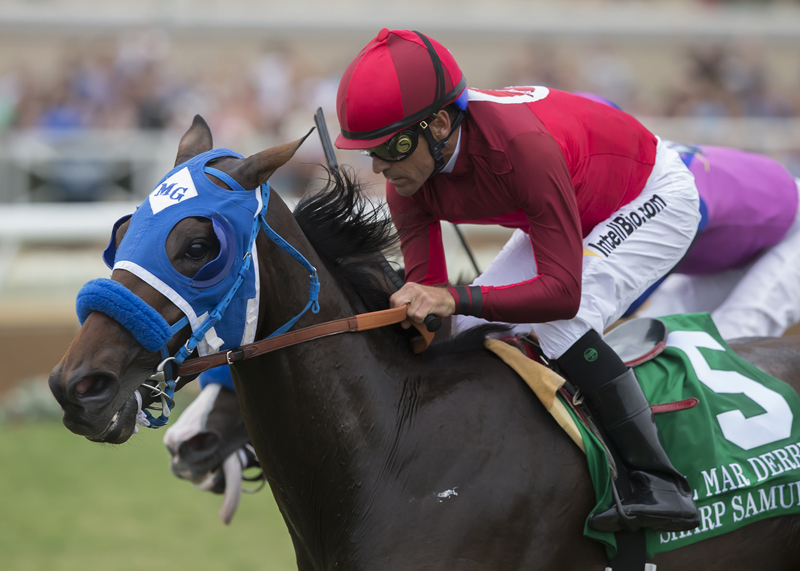 STAKES DOUBLEHEADERS IN STORE SUNDAY FOR GLATT, McCARTHY
Sunday's stakes doubleheader of the $250,000 Eddie Read and $85,000-added Wickerr will mean double duty for trainers Mark Glatt and Mike McCarthy, who will have representatives in both races.
And while the job of derailing trainer John Sadler's stakes train -- he has morning line favorites Catapult (2-1) in the Read and Higher Power (5-2) in the Wickerr -- is an unenviable one, both Glatt and McCarthy are tackling it with resolve.
Glatt will send out Sharp Samurai (5-2) in the Read and the duo of Law Abidin Citizen (5-1) and Souter (4-1) in the Wickerr. McCarthy has Ohio (6-1) set for the Read and Tizzarunner (10-1) in the Wickerr.
Sharp Samurai has shown sharp form at Del Mar. The 5-year-old son of First Samurai won the La Jolla Handicap and Del Mar Derby to be voted Top 3-Year-old of the 2017 meeting and returned last summer to finish second in both the Read and the Del Mar Mile, both behind Catapult, moved up in the Mile via disqualification.
Given a six-month break starting in October, Sharp Samurai started his 2019 campaign with a fourth in the Grade I Shoemaker in May at Santa Anita and then was third in a blanket finish in the Grade III American last month.
"He's making his third start off a layoff and often times that's when a horse is at its best," Glatt said. "The Shoemaker was a strong effort off a long layoff and maybe the American was a little too quick after that. We're hoping that being back here he'll show up to being his old self and I kind of think that he will."
Ohio, an 8-year-old Brazilian-bred, held off Catapult in a nose victory over firm ground in the Kilroe Mile on March 30 but misfired to finish sixth of nine in the Shoemaker, which was run on turf rated "good."
"We're getting him back to the track where he ran arguably one of his best races of the year last year," McCarthy said. In an allowance on August 19, Ohio won a mile allowance on turf in 1:33.66. Two races earlier Catapult won the Grade II Del Mar Mile in 1:33.40.
Sadler entered Higher Power in Saturday's $200,000 Grade II San Diego Handicap but scratched to go in the Wickerr, bolstering an opinion about the race that McCarthy expressed Friday.
"I think the Wickerr is a very tough race, very salty, and could be a graded stake any day of the week," McCarthy said.
Tizzarunner, a 6-year-old gelded son of Tizway, will be making his 24th career start in seeking his fifth win. He was campaigned in the East and Midwest by Mike Maker in 2017-18 and has a second and seventh place in races this spring at Santa Anita for McCarthy.
"He's has done well since he came here and we're hoping it'll bring out the best in him," McCarthy said.
Glatt's duo in the Wickerr have combined for three wins from nine starts in 2019. Law Abidin Citizen, a 5-year-old gelded son of Twirling Candy, has made the biggest impact with a win in the Grade III San Simeon and second in the Grade III American.
"I think both are going into it real well, with good chances and we'll see how it plays out for us," Glatt said.
The Eddie Read goes as the fourth and the Wickerr as the sixth on an eight-race program.
---
BELLAFINA WORKS FIVE FURLONGS IN 1:00.40 FOR UPCOMING TEST
With owner Kaleem Shah and trainer Simon Callaghan watching from the grandstand, 2018 Del Mar Debutante winner Bellafina worked five furlongs in 1:00.40 Saturday morning under exercise ride Jack Stack.
Track clockers had the 3-year-old filly cruising through interim splits of :24.40, :36.80 and :48.20 while galloping out three-quarters in 1:13.60.
"Two weeks out (from a start in the Test Stakes at Saratoga) we're just looking at it as a (fitness) maintenance work," Callaghan said before the exercise. "Probably something around 1:01 for five-eighths."
"It went very well," Callaghan said afterward. He indicated Bellafina would work once more here next weekend and then ship east the following Tuesday.
---
SEVEN SET FOR WEDNESDAY'S GRADE III COUGAR II HANDICAP
The second week of the meeting kicks off Wednesday with the feature being the Grade III $100,000 Cougar II Handicap. The 1 ½-mile marathon, which has been used in the past as a prep for the $1 million TVG Pacific Classic, attracted seven entrants led by multiple graded stakes winner Itsinthepost.
The field from the rail: Premium Forest (Kyle Frey), Itsinthepost (Drayden Van Dyke), Zestful (Abel Cedillo), For the Top (Joe Talamo), Original Intent (Assael Espinoza), Morse Code (Richard Baltas) and Campaign (Rafael Bejarano).
---
CLOSERS – Selected works from 177 officially timed Saturday morning: Campaign (4f, :49.00), Giant Expectations (4f, :48.40), Ollie's Candy (4f, :46.60), Bellafina (5f, 1:00.40), Cruel Intention (5f, :59.80), La Force (5f, 1:01.80), Cistron (6f, 1:13.80) … Del Mar joins all of racing in being saddened by the passing, at age 93, of Marylou Whitney, the renowned owner/breeder and "Queen of Saratoga." Whitney's Bird Town won the Kentucky Oaks in 2003 and Birdstone the 2004 Belmont Stakes. The National Thoroughbred Racing Association issued a statement saying in part: "Marylou Whitney embodied all of the best qualities of the sport to which she devoted her time, heart and resources."