CA Racing News
Stable Notes August 9, 2019
Friday, August 9th, 2019
Provided by Del Mar Thoroughbred Club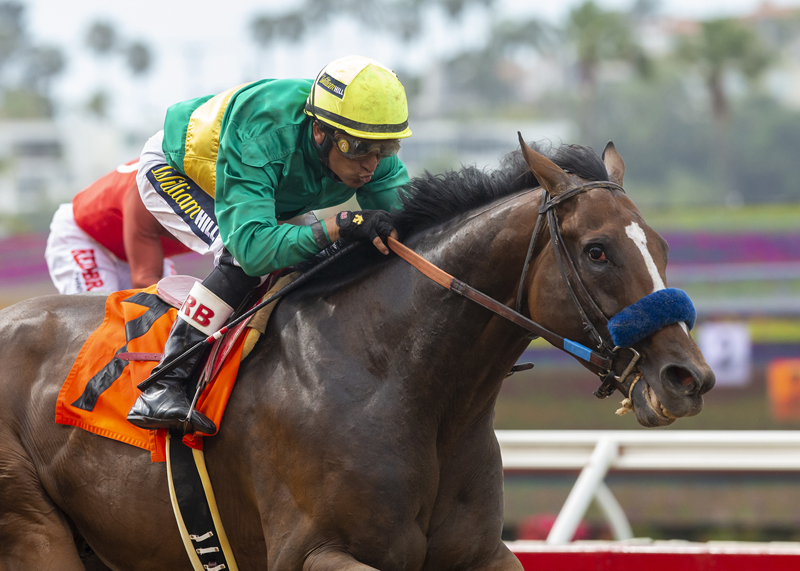 Campaign © Benoit Photo
NOMINATIONS CLOSE WITH 18 NAMED TO TVG PACIFIC CLASSIC
The deadline for regular nominations to the 29th running of the Grade I TVG Pacific Classic passed Thursday night with 18 on the list compiled by the Del Mar racing office.
The list includes five that would need to be shipped in from eastern tracks in the days before the Saturday, August 17 race. The latest nominee - joining fellow out-of-staters Seeking the Soul, Quip, Tenfold and War Story - is Todd Pletcher-trained Bal Harbour.
A four-year-old gelded son of First Samurai, owned by the late John J. Brunetti, Sr.'s Red Oak Stable, Bal Harbour comes in off a second place finish in the Monmouth Cup on July 20, beaten a head by fellow Pacific Classic nominee War Story.
Bal Harbour has five wins in 16 career starts and earnings of $388,755.
The TVG Pacific Classic's $1 million purse, with $600,000 to the winner, is the largest for a Thoroughbred race on the West Coast other than Breeders' Cup events. The 1 ¼-mile main track test is a "Win and You're In" qualifier for the $6 million Breeders' Cup Classic in November at Santa Anita.
In addition to previously mentioned horses, the nominee list consists of, in alphabetical order: Blended Citizen, California Street, Campaign, Catalina Cruiser, Draft Pick, Fawree, For the Top, Gray Magician, Higher Power, Julius, Major Cabbie, Mongolian Groom and Pavel.
Several of the locally-based prospects will be put through final workouts for the race over the weekend.
Trainer John Sadler, who notched his first Pacific Classic victory with Accelerate last year, plans to work his three candidates – Catalina Cruiser, Campaign and Higher Power – Saturday morning. Two will go at the 6:30 a.m. training session and the third at 7:45.
Catalina Cruiser won the TVG Pacific Classic stepping stone San Diego Handicap. Campaign took the Cougar II Handicap and Higher Power was the runner-up in the Wickerr, all in the first six days of the meeting. Sadler has indicated that Campaign, owned by Woodford Racing, is targeted for the Classic. Decisions regarding Catalina Cruiser and Higher Power, both owned by Hronis Racing, will be made sometime after the works.
Doug O'Neill said Pavel, who has two works over the track since finishing second in the Suburban at Belmont Park on July 6, will put in his final exercise either Saturday or Sunday.
The fee for early nominations was $300. Supplemental nominations at a cost of $10,000 will be accepted up until the time of entries Tuesday morning.
---
O'NEILL SENDS OUT TWO IN SEARCH OF A FOURTH BEST PAL
Trainer Doug O'Neill has won the Best Pal, the featured $200,000 Grade II event of Saturday's program, three times. The most recent, in 2015, came with Nyquist who would go on to win the Del Mar Futurity and, the following May, the Kentucky Derby.
And while only time will tell what future awaits undefeated (2-for-2) Fore Left and stable newcomer Raging Whiskey, the task at hand on Saturday will be attempting to secure a fourth Best Pal for O'Neill and, in the case of Fore Left, a third for owner J. Paul Reddam.
"I think we have two legitimate chances," O'Neill said. "They've both had works over the track, they're doing well. They're both battle-tested as far as having shipped and run credibly and shipped back well. Two mature babies, so we'll see what happens."
Fore Left, a Kentucky-bred son of Twirling Candy, broke his maiden at Santa Anita on May 19 by a neck while Raging Whiskey dead heated for third, 5 ¼ lengths back. They were both eventually sent to race in New York.
Fore Left travelled to win the $150,000 Tremont at Belmont Park on June 7. Raging Whiskey, a Kentucky-bred son of Bourbon Courage, broke his maiden for trainer Luis Mendez on June 2 at Santa Anita before being turned over to O'Neill, who dispatched the colt to Saratoga for a third-place effort in the Sanford Stakes on July 13.
The field from the rail: Wrecking Crew (Mike Smith, 4-1), Raging Whiskey (Abel Cedillo, 12-1), We're Still Here (Drayden Van Dyke, 6-1), Schrodinger (Flavien Prat, 2-1), Collusion Illusion (Joe Talamo, 8-1), Thanks Mr. Eidson (Norberto Arroyo, Jr., 6-1) and Fore Left (Mario Gutierrez, 5-2).
---
IT'S A TOTALLY DIFFERENT RANCHO BERNARDO FOR CHAMP YUVETSI
Many things have changed but some remain the same for Hronis Racing's Yuvetsi regarding the 2018 versus 2019 runnings of the Rancho Bernardo Handicap.
A year ago, the then 4-year-old daughter of Bodemeister pulled off a $20.80 upset in a four-horse field that included defending race champion Skye Diamonds and odds-on favorite Anonymity.
When the 48th running of the Grade III $100,000, 6 ½-furlong sprint for older fillies and mares is presented on Sunday, Yuvetsi figures to be a relative longshot – she's 8-1 on the morning line – against favored Anonymity. Yuvetsi will still be breaking from an unfavorable inside post as was the case in 2018.
But unlike last year she'll be dealing with eight rivals, if all go to the post. Rather than coming in off only two weeks away from racing, she'll be returning from nearly a three-month layoff after being a distant last behind Danuska's My Girl and Show It N Moe It in a three-horse Desert Stormer on May 19 at Santa Anita.
The Rancho Bernardo was the most recent of four victories in 15 career starts for Yuvetsi, who has earnings of $253,930.
"She got the worst post (No. 1) so it's going to be tough but we'll hope for the best," trainer John Sadler said. "We're going to have to work out a trip from the rail. We don't want to see her in front which makes it a little tricky. You're down on the inside eating dirt unless you can find your way outside somehow."
The field from the rail: Yuvetsi (Ruben Fuentes, 8-1), Show It N Moe It (Victor Espinoza, 8-1), Kram (Mike Smith, 20-1), Exuberance (Joe Talamo, 10-1), Anonymity (Flavien Prat, 2-1), Lady Ninja (Drayden Van Dyke, 3-1), Zusha (Tiago Pereira, 20-1), Best of Me (Rafael Bejarano, 12-1) and Danuska's My Girl (Geovanni Franco, 7-2).
---
PRAT ADDS ONE TO JOCKEY LEAD; TRAINERS STATUS MOSTLY QUO
A victory aboard Playa Chica ($4.80) in Thursday's second race enabled Flavien Prat to expand his lead atop the jockey standings to three (20-17) over Drayden Van Dyke.
There was no movement at the top of the trainer standings as Doug O'Neill (13 wins) and Peter Miller (10) didn't add to their totals on Thursday. Richard Baltas, with a score with Playa Chica, moved into a tie with Bob Hess, Jr., for third.
Mark Glatt saddled Denman's Call (3rd, $7.20) and Zestful (6th, $6.80) to become the only trainer with two wins on Thursday and move to solo seventh in the standings with five victories.
---
CLOSERS – Saturday marks the 54th birthday of Hall of Fame jockey Mike Smith. Before the celebrating starts, his work day will include riding workouts in the morning and four mounts on the afternoon racing program. Chief among the afternoon commitments is Wrecking Crew, the 4-1 morning line third choice in the Best Pal Stakes … The Arlington Million will be run for the 37th time on Saturday, and in a rarity there are no Del Mar-based horses, trainers or jockeys involved. U.S. turf master trainer Chad Brown will saddle two, headed by 8-5 morning line favorite Bricks and Mortar. Legendary Irish conditioner Aidan O'Brien also has two for the 1 ¼-mile turf run … Tyler Baze, who relocated to the Midwest earlier this year, completed a brief return to the West Coast to visit family with a victory on Denman's Call in the fourth race … Selected works from 120 officially timed Friday morning: Ghost Street (4, :47.00), Nolde (4f, :48.60), Ahimsa (5f, 1:02.40) and Itsinthepost (5f, 1:02.40).
---
DEL MAR STATISTICS
Jockey Standings
(Current Through Thursday, August 8, 2019 Inclusive)
| | | | | | | | |
| --- | --- | --- | --- | --- | --- | --- | --- |
| Jockey | Mts | 1st | 2nd | 3rd | Win% | In-money% | Money Won |
| Flavien Prat | 59 | 20 | 7 | 12 | 34% | 66% | $1,180,879 |
| Drayden Van Dyke | 65 | 17 | 12 | 7 | 26% | 55% | $1,059,902 |
| Rafael Bejarano | 71 | 13 | 9 | 6 | 18% | 39% | $669,812 |
| Ruben Fuentes | 71 | 11 | 8 | 5 | 15% | 34% | $425,629 |
| Abel Cedillo | 67 | 10 | 10 | 9 | 15% | 43% | $400,953 |
| Joseph Talamo | 50 | 9 | 7 | 11 | 18% | 54% | $443,693 |
| Norberto Arroyo, Jr. | 55 | 5 | 4 | 11 | 9% | 36% | $464,666 |
| Jorge Velez | 57 | 4 | 13 | 3 | 7% | 35% | $233,132 |
| Mario Gutierrez | 39 | 4 | 5 | 10 | 10% | 49% | $334,778 |
| Edwin Maldonado | 35 | 4 | 4 | 4 | 11% | 34% | $209,472 |
Trainer Standings
(Current Through Thursday, August 8, 2019 Inclusive)
| | | | | | | | |
| --- | --- | --- | --- | --- | --- | --- | --- |
| Trainer | Sts | 1st | 2nd | 3rd | Win% | In-money% | Money Won |
| Doug F. O'Neill | 56 | 13 | 7 | 8 | 23% | 50% | $565,380 |
| Peter Miller | 31 | 10 | 5 | 5 | 32% | 65% | $487,506 |
| Richard Baltas | 48 | 7 | 7 | 6 | 15% | 42% | $519,784 |
| Robert B. Hess, Jr. | 21 | 7 | 2 | 0 | 33% | 43% | $194,091 |
| John W. Sadler | 41 | 6 | 6 | 4 | 15% | 39% | $781,826 |
| Bob Baffert | 22 | 6 | 3 | 4 | 27% | 59% | $360,213 |
| Mark Glatt | 33 | 5 | 4 | 6 | 15% | 45% | $265,689 |
| Jeff Mullins | 14 | 4 | 5 | 2 | 29% | 79% | $226,782 |
| Brian J. Koriner | 17 | 4 | 4 | 2 | 24% | 59% | $194,055 |
| Richard E. Mandella | 16 | 4 | 3 | 2 | 25% | 56% | $226,113 |
Winning Favorites Report
(Current Through Thursday, August 8, 2019 Inclusive)
Winning favorites -- 55 out of 136 -- 40.44%
Winning favorites on dirt -- 37 out of 80 -- 46.25%
Winning favorites on turf -- 18 out of 56 -- 32.14%
Winning odds-on favorites -- 17 out of 27 -- 62.96%
In-the-Money favorites -- 99 out of 136 -- 72.79%
In-the-Money odds-on favorites -- 25 out of 27 -- 92.59%