CA Racing News
Stable Notes August 8, 2018
Thursday, August 9th, 2018
Provided by Del Mar Thoroughbred Club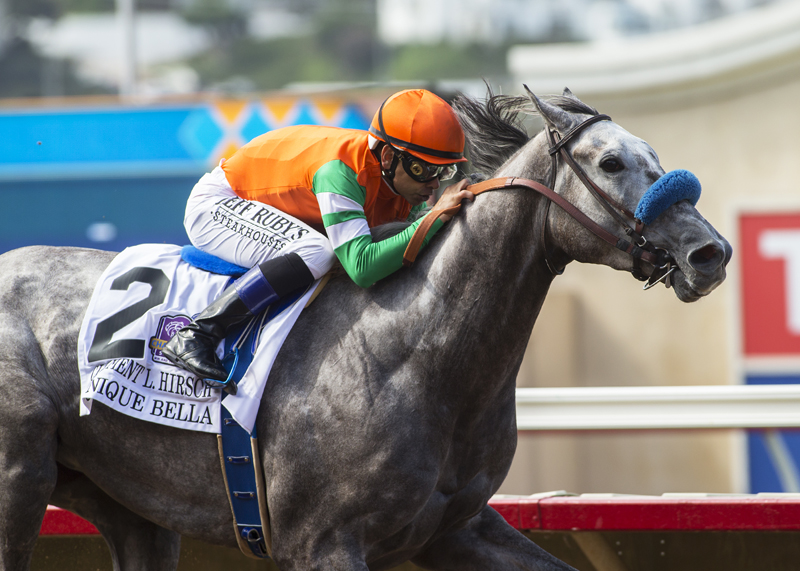 Unique Bella © Benoit Photo
DAY 17
UNIQUE BELLA IN THE PACIFIC CLASSIC? FIRST STEP HAS BEEN TAKEN
Of the eight names on nomination forms for the $1 million TVG Pacific Classic secured by the Del Mar racing office as of Thursday morning there was one guaranteed to create a stir in fans and horsemen alike.
That name: Unique Bella, the Eclipse Award-winning 4-year-old filly trained by Hall of Famer Jerry Hollendorfer, owned by Don Alberto Stable and earner of more than $1.2 million from nine wins in 12 career starts, most recently a half-length score in the Grade I $300,000 Clement L. Hirsch Stakes here on July 29.
"We're nominating and we'll take a look at the other nominations," Hollendorfer said Thursday morning. Asked for a percentage estimate on the possibility of Unique Bella, Hollendorfer said: "Not at this time."
Hollendorfer also nominated Full of Luck, a five-year-old son of Lookin At Lucky of which he is a part owner. Full of Luck was imported late last year after two standout seasons in Chile and produced his best result in four U.S. starts when third in the Grade III $100,000 Cougar II Handicap here on July 25.
Other horses, beside the Hollendorfer duo, whose nominations were received Thursday morning were: Accelerate, Ann Arbor Eddie, Catalina Cruiser, Pavel, Prime Attraction and The Lieutenant.
The deadline for nominations, at a cost of $300, is midnight Thursday. Supplemental entries, at a fee of $10,000, can be received up until the field is finally set next Tuesday.
For Unique Bella to take on males would be a departure from the norm for Hollendorfer. He resisted temptation to do so on several occasions with champion filly Songbird throughout a 15-race career in which she won 13 of 15 starts and earned more than $4.6 million before being sold at auction as a broodmare prospect for $9.6 million.
Hollendorfer was dismissive of calls early last year to run Unique Bella in the Kentucky Derby rather than the Kentucky Oaks, before the disscussions became moot when an injury sidelined her for four months.
Hollendorfer has four previous Pacific Classic starters and won the 2014 running with Shared Belief. There have been five females to run in the Classic starting with Paseana (5th, 1992) and most recently with Beholder. The Richard Mandella-trained champion went from winning the Clement L. Hirsch to victory in the Pacific Classic in 2015 and finished second to California Chrome the following year.
The 1 ¼-mile TVG Pacific Classic, signature event of the summer season, will have its 28th running on Saturday, August 18.
---
MORE PACIFIC CLASSIC UPDATES : CATALINA CRUISER TO WORK FRIDAY
San Diego Handicap winner Catalina Cruiser is scheduled to have a final workout Friday morning in preparation for a possible Pacific Classic start. Juan Leyva, assistant trainer to John Sadler, is expected to be aboard the unbeaten (3-for-3) son of Union Rags in his second serious exercise since a dominating, wire-to-wire, 6 3/4 –length romp in the San Diego.
Likely Pacific Classic favorite Accelerate, winner of the Santa Anita Handicap and the Gold Cup at Santa Anita, is scheduled to have his final work for the Pacific Classic on Sunday. Sadler doesn't relish the idea of running both Accelerate and Catalina Cruiser, and has expressed preference for Accelerate in the race, but will delay any decision until after the final works and near Tuesday's close of entries.
Bob Baffert has Dr Dorr and Mubtaahij as possibles in quest of a sixth Classic victory that would tie Bobby Frankel for most by a trainer. Friday morning, Baffert plans to work newly-acquired Roman Rosso, an Argentine-bred multi Group I winner in South America. "He might run in the Classic or the (Harry F.) Brubaker," Baffert said via text.
Mark Glatt said a decision on whether to nominate Sharp Samurai for the Classic would be made after discussions with owners Red Baron's Barn LLC and Rancho Temescal later Thursday.
Leonard Powell said Cougar II Handicap winner Beach View would likely be nominated to the Pacific Classic and another stakes on the card the same day. Also closing nominations at midnight Thursday are the Grade II $250,000 Del Mar Handicap by the Japan Racing Association, the Grade I $300,000 Del Mar Oaks presented by the Jockey Club and the Grade II $200,000 Del Mar Mile. "Just looking at the (Classic) probables, there's a good chance I'm going to go in because it doesn't look like a vintage edition," Powell said.
---
INSTAGRAND MADE 1-2 FAVORITE AGAINST FOUR RIVALS IN BEST PAL
Instagrand, a $1.2 million purchase at the Fasig-Tipton sale in March, who looked well worth it in a 10-length debut victory at Los Alamitos on June 29, was established as the 1-2 favorite against five rivals for Saturday's featured Grade II $200,000 Best Pal Stakes.
Raced at 6 ½ furlongs from 1993-2017, the event that serves as a prep for the Grade I $300,000 Del Mar Futurity on September 3, has been cut back to six furlongs for its 48th running. That would seem to be a nice stretch-out distance for Instagrand, a son of Into Mischief owned by OXO Equine LLC, whose impressive debut was at five furlongs.
"He been doing great," Hall of Fame trainer Jerry Hollendorfer said. "He's improved in all of his works and now he's going to run against good colts in a big race here.
"I don't know if we chased anybody away (from the race). I just feel that the ones that are running, their trainers feel they're ready to go now."
The field from the rail: Instagrand (Drayden Van Dyke, 1-2), Owning (Mario Gutierrez, 5-2), Synthesis (Kent Desormeaux, 15-1), Mason Dixon (Flavien Prat, 5-1), Sparky Ville (Gary Stevens, 10-1).
---
SKYE DIAMONDS FACES FIVE IN RANCHO BERNARDO TITLE DEFENSE
Bill Spawr-trained Skye Diamonds will face five rivals defending her title in Sunday's $100,000 Grade III Rancho Bernardo Handicap for older fillies and mares at 6 ½ furlongs.
Skye Diamonds was a 1 ¼-length winner a year ago as the 5-year-old daughter of First Dude won three of four stakes assignments, two of them graded, in a six-month stretch. Skye Diamonds is 0-for-5 since, all in stakes company.
The post position draw was scheduled later Thursday. The entrants, in alphabetical order: Anonymity (Flavien Prat), Deer Valley (Drayden Van Dyke), Moonshine Memories (Mike Smith), Skye Diamonds (Tiago Pereira), Turkish Tabby (Mario Gutierrez) and Yuvetski (Tyler Baze).
---
APPRENTICE JOCKEY ESPINOZA AWARDED STAY OF SUSPENSION
Apprentice jockey Assael Espinoza was awarded a stay of the 10-day suspension handed down by stewards for causing an incident in which jockeys Corey Nakatani and Geovanni Franco were injured in Saturday's final race, according to agent Brian Beach.
The decision, handed down by judge Timothy M. Casserly in San Diego County Superior Court, means that the suspension will be on hold until an appeal can be heard at a later date.
---
MACHOWSKY, HENIE GUESTS FOR WEEKEND HANDICAPPING SEMINARS
Trainer Mike Machowsky and handicapper Rob Henie will be the guests providing opinions and selections at the upcoming weekend handicapping seminars.
Machowsky has six Del Mar stakes victories, most notably the 2011 Del Mar Mile with Caracortado.
Henie, whose daily selections are found on the West Coast Handicapping Report and are often featured on John Cherwa's Los Angeles Times racing website, will be Frank Scatoni's guest on Sunday.
The seminars are held from 12:45-1:30 p.m. at the Seaside Terrace near the head of the stretch.
Saturday will also be another Donuts Day at Del Mar with free juice, coffee and donuts and a question and answer session for fans hosted by announcer Trevor Denman and featuring trainers John Sadler, John Sherriffs and Del Mar Thoroughbred Club Vice President of Racing Tom Robbins.
---
CLOSERS – Agent Brad Pegram informs that jockey Mike Smith will be at Saratoga on Pacific Classic Day, August 18, to ride Abel Tasman in the Alabama Stakes … Selected works from 156 on dirt and 22 on turf officially timed Thursday morning: Dirt – Roy H (3f, :38.20), Skye Diamonds (3f, :38.20), American Anthem (4f, :48.80), Just a Smidge (4f, :48.80), Rubilinda (4f, :47.80), Full of Luck (5f, 1:03.40); Turf – Evo Campo (4f, :50.80), Hoppertunity (4f, :49.80), Animosity (5f, :59.00), Barleysugar (5f, 1:00.80), Caribou Club (5f, 1:00.20), Insta Erma (5f, 1:00.80), and What a View (5f, 1:02.60),
---
DEL MAR STATISTICS
Jockey Standings
(Current Through Wednesday, August 8, 2018 Inclusive)
| | | | | | | | |
| --- | --- | --- | --- | --- | --- | --- | --- |
| Jockey | Mts | 1st | 2nd | 3rd | Win% | In-money% | Money Won |
| Flavien Prat | 63 | 18 | 10 | 4 | 29% | 51% | $1,135,950 |
| Drayden Van Dyke | 58 | 15 | 5 | 8 | 26% | 48% | $992,390 |
| Tyler Baze | 80 | 12 | 9 | 9 | 15% | 38% | $701,474 |
| Assael Espinoza | 80 | 11 | 9 | 7 | 14% | 34% | $404,715 |
| Heriberto Figueroa | 50 | 9 | 6 | 4 | 18% | 38% | $248,600 |
| Geovanni Franco | 67 | 9 | 5 | 14 | 13% | 42% | $425,837 |
| Mario Gutierrez | 51 | 8 | 9 | 6 | 16% | 45% | $452,420 |
| Rafael Bejarano | 66 | 6 | 8 | 8 | 9% | 33% | $437,490 |
| Tiago Pereira | 51 | 6 | 3 | 8 | 12% | 33% | $286,357 |
| Evin Roman | 56 | 4 | 6 | 5 | 7% | 27% | $269,375 |
Trainer Standings
(Current Through Wednesday, August 8, 2018 Inclusive)
| | | | | | | | |
| --- | --- | --- | --- | --- | --- | --- | --- |
| Trainer | Sts | 1st | 2nd | 3rd | Win% | In-money% | Money Won |
| Peter Miller | 54 | 14 | 8 | 5 | 26% | 50% | $715,895 |
| Doug F. O'Neill | 68 | 10 | 12 | 8 | 15% | 44% | $546,585 |
| Jerry Hollendorfer | 43 | 10 | 8 | 3 | 23% | 49% | $572,039 |
| Philip D'Amato | 53 | 7 | 5 | 6 | 13% | 34% | $581,293 |
| John W. Sadler | 29 | 6 | 1 | 2 | 21% | 31% | $497,229 |
| Richard Baltas | 47 | 5 | 6 | 7 | 11% | 38% | $340,320 |
| William E. Morey | 17 | 5 | 1 | 2 | 29% | 47% | $204,010 |
| Brian J. Koriner | 19 | 5 | 1 | 1 | 26% | 37% | $250,860 |
| Bob Baffert | 19 | 4 | 5 | 3 | 21% | 63% | $278,815 |
| Jeff Mullins | 21 | 4 | 2 | 0 | 19% | 29% | $232,675 |
Winning Favorites Report
(Current Through Wednesday, August 8, 2018 Inclusive)
Winning favorites -- 48 out of 139 -- 34.53%
Winning favorites on dirt -- 38 out of 87 -- 43.68%
Winning favorites on turf -- 10 out of 52 -- 19.23%
Winning odds-on favorites -- 14 out of 21 -- 66.67%
In-the-Money favorites -- 97 out of 139 -- 69.78%
In-the-Money odds-on favorites -- 21 out of 21 -- 100.00%