CA Racing News
Stable Notes August 10, 2019
Saturday, August 10th, 2019
Provided by Del Mar Thoroughbred Club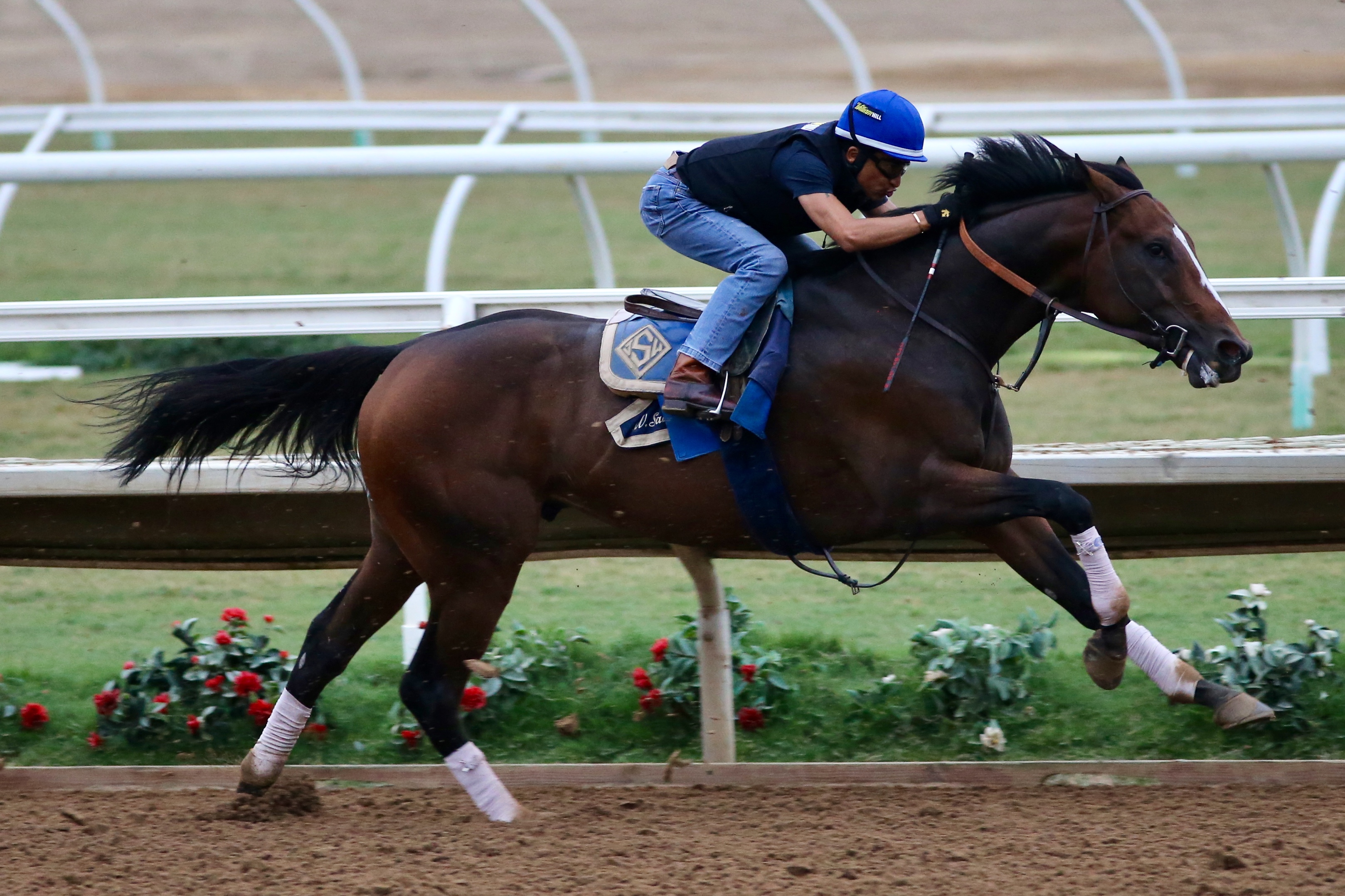 Campaign
PROSPECTS PUT THROUGH FINAL WORKS FOR TVG PACIFIC CLASSIC
Seven nominees for the $1 million TVG Pacific Classic on August 17 put in final works for the signature race of the summer meeting Saturday morning.
Trainer John Sadler sent out his trio of Catalina Cruiser, Campaign and Higher Power. Doug O'Neill worked Pavel and Julius. Draft Pick was put through a tune-up run by Peter Eurton. And Enebish Ganbat saddled Mongolian Groom for a fitness sprint one week out from the 1 ¼-mile event that is a "Win and You're In" qualifier for the $6 million Breeders' Cup Classic in the fall at Santa Anita.
Campaign, winner of the Cougar II Handicap on July 24, and Higher Power, runner-up in the Wickerr Stakes on July 21, went to the track for a 6:30 a.m. session.
With Rafael Bejarano up, Campaign was officially clocked in 1:04.00 for five furlongs, galloping out to six furlongs in 1:15.80. Higher Power, under meet-leading jockey Flavien Prat, working in company with Horace Greedy, covered six furlongs in 1:13.40.
Catalina Cruiser, who made a successful title defense in the San Diego Handicap on July 20, took part in a 7:45 a.m. session and was timed in 1:00 flat for five furlongs under assistant trainer Juan Leyva. Del Mar clockers had interim splits of :24.40, :35.40, :47.60 with the Hronis Racing color bearer galloping out to six furlongs in 1:13.00.
"An impressive work, Prat was very happy with him," Sadler said of the Higher Power exercise. "Campaign went a little slower but he finished up well and Bejarano was happy with him.
"Catalina Cruiser went really well and I'll come out with what my plan is for him maybe tomorrow," Sadler said. A year ago Catalina Cruiser followed the San Diego victory with one in the Pat O'Brien. The Pat O'Brien is a "Win and You're In" qualifier for the Breeders' Cup Dirt Mile.
Pavel, runner-up to Accelerate in the 2018 Classic, went four furlongs in :49.40 under exercise rider Amir Cedeno. "He galloped out with great energy and we're very happy with him," O'Neill said. Mario Gutierrez has the mount for the Classic.
Draft Pick went five furlongs in 1:00.60 under Joe Talamo, who'll be aboard for the Classic.
"I thought he worked very well, no complaints," Eurton said. "Looking forward to the draw on Tuesday."
The field will be finalized on Tuesday morning and the post position draw will be held that afternoon at the Brigantine Restaurant which overlooks the track from heights at its northwest corner
Julius, winner of the opening race of the meeting and considered an O'Neill back-up for Pavel, covered four furlongs in :47.40. Mongolian Groom, runner-up to Catalina Cruiser in the San Diego Handicap and a potential first Classic starter for Ganbat, went six furlongs in 1:14.00.
---
SCRATCH OF FAVORITE MAKES FOR REVISED BEST PAL MORNING LINE
Schrodinger, the 2-1 morning line favorite in Saturday's $200,000 Grade II Best Pal Stakes, was a morning scratch reportedly because he was running a fever.
Oddsmaker Russ Hudak issued a revised morning line as follows, from the rail out: Wrecking Crew (Mike Smith, 5-2), Raging Whiskey (Abel Cedillo, 8-1), We're Still Here (Drayden Van Dyke, 4-1), Collusion Illusion (Joe Talamo, 5-1), Thanks Mr. Eidson (Ruben Fuentes, 4-1) and Fore Left (Mario Gutierrez, 2-1).
---
ANONYMITY TAKES A SECOND SHOT IN SUNDAY'S RANCHO BERNARDO
A year older and with three more graded stakes races worth of seasoning, Anonymity is back for Sunday's Grade III, $100,000 Rancho Bernardo Handicap aiming for a slightly better result than the runner-up finish in a four-horse field as the 2-5 favorite in 2018.
The 5-year-old daughter of Tapit owned by LNJ Foxwoods and trained by Richard Mandella has never finished out of the money and notched three wins in eight career starts with earnings of $292,200.
"I like her, she's had her prep race and she's doing very well," Mandella said Saturday morning. "She's a good mare. Not a Beholder, but there'll probably never be another one like Beholder. But she's had a very good career."
Anonymity came into the 2018 Rancho Bernardo on a two-race winning streak and the upset loss started a string of narrow losses, two to end her 4-year-old season and one in 2019. Her final 2018 race was, however, a loss by only a neck when third to Shamrock Rose and Chalon in the Breeders' Cup Filly and Mare Sprint. And the 1 ¾-length margin of defeat to Marley's Freedom in the Great Lady M at Los Alamitos last month could be dismissed as due in part at least to an eight-month layoff.
"The Breeders' Cup last year, where she closed strong and just missed was her best race," Mandella said. "We'd like to try it again this year (at Santa Anita) - that's the plan."
---
MUCHOS BESOS TRADES A LONG CAREER FOR HAPPY RETIREMENT
Muchos Besos, which translates from Spanish as "Many Kisses," received many well-wishes Saturday morning from riders passing by and stable workers as the 10-year-old son of Macho Uno was on display for one of the last times before leaving the racetrack for retirement.
Trainer Javier Sierra, who claimed the gray Muchos Besos from Art Sherman in May of 2014, has saddled the gelding for 55 races since then in a career of 79 starts, 12 wins, 9 seconds and 15 thirds with earnings of $335,236.
It would have been 56, but the Del Mar Thoroughbred Club veterinary panel – possibly noting his age and long career – mandated a scratch from Friday's third race. That prompted Sierra to announce Muchos Besos' retirement and sale by owner Hugo Catalan to an unidentified Rancho Santa Fe resident who, Sierra said, intends to keep him in good surroundings and promised not to race him again.
"He's still sound, he could still run and he wants to run, but the owner decided to let him go to a good home where he can come to see him any time he wants," Sierra said. "They've been offering to buy him for awhile.
"He's been a good horse to train, and everybody loves him. The last time he won, at Santa Anita (April 28) coming back to the winner's circle, everybody was applauding like he was a Triple Crown winner."
---
EASTERN INVADERS EYE UNDERCARD STAKES NEXT SATURDAY
It isn't just the TVG Pacific Classic that is inducing an influx of out-of-state shippers. The undercard for the Saturday, August 17, program has draws too.
Chad Brown, the nation's No. 1 trainer, especially when it comes to grass events, has indicated he will send Cambier Parc and Dogtag for the $300,000 Grade I Del Mar Oaks.
Cambier Parc has three wins in five starts, among them a Grade III stake at Belmont Park in June. Dogtag is 2-for-5 lifetime with a win in the $100,000 Hilltop at Pimlico on Preakness Day.
Victoria Oliver, who won the 2014 Oaks with Personal Diary, already has Wildlife, a winner of two straight, on the grounds after shipping from Kentucky.
The $250,000 Del Mar Handicap by The Japan Racing Association has attracted interest from owner John Campo III and trainer Stacy Campo, with Arizona Moon, a 6-year-old son of Macho Uno.
Also apparently headed to the Del Mar Handicap is The Great Day, an Argentine-bred 5-year-old who ran second in the Grade III Arlington Handicap on July 13 at Arlington Park in Chicago under jockey Flavien Prat.
---
CLOSERS – Happy Birthday No. 54 today to Hall of Fame jockey Mike Smith. He has four mounts on the program, among them Wrecking Crew (5-2) in the featured Best Pal Stakes. The next stakes win for Smith will be No. 69 at Del Mar, breaking a tie with Patrick Valenzuela and giving Smith sole possession of the No. 10 spot on the track's list for stakes victories by jockeys.
---
DEL MAR STATISTICS
Jockey Standings
(Current Through Friday, August 9, 2019 Inclusive)
| | | | | | | | |
| --- | --- | --- | --- | --- | --- | --- | --- |
| Jockey | Mts | 1st | 2nd | 3rd | Win% | In-money% | Money Won |
| Flavien Prat | 62 | 20 | 7 | 13 | 32% | 65% | $1,200,190 |
| Drayden Van Dyke | 67 | 17 | 13 | 7 | 25% | 55% | $1,069,302 |
| Rafael Bejarano | 75 | 14 | 10 | 6 | 19% | 40% | $765,143 |
| Abel Cedillo | 71 | 12 | 10 | 9 | 17% | 44% | $429,255 |
| Ruben Fuentes | 78 | 12 | 10 | 5 | 15% | 35% | $459,233 |
| Joseph Talamo | 52 | 10 | 7 | 11 | 19% | 54% | $484,073 |
| Norberto Arroyo, Jr. | 55 | 5 | 4 | 11 | 9% | 36% | $464,666 |
| Kent Desormeaux | 34 | 5 | 3 | 2 | 15% | 29% | $420,245 |
| Jorge Velez | 60 | 4 | 14 | 4 | 7% | 37% | $243,443 |
| Mario Gutierrez | 41 | 4 | 6 | 10 | 10% | 49% | $363,629 |
Trainer Standings
(Current Through Friday, August 9, 2019 Inclusive)
| | | | | | | | |
| --- | --- | --- | --- | --- | --- | --- | --- |
| Trainer | Sts | 1st | 2nd | 3rd | Win% | In-money% | Money Won |
| Doug F. O'Neill | 59 | 14 | 9 | 8 | 24% | 53% | $685,980 |
| Peter Miller | 32 | 10 | 5 | 6 | 31% | 66% | $505,506 |
| Richard Baltas | 49 | 7 | 7 | 6 | 14% | 41% | $520,135 |
| Robert B. Hess, Jr. | 21 | 7 | 2 | 0 | 33% | 43% | $194,091 |
| John W. Sadler | 42 | 6 | 6 | 4 | 14% | 38% | $782,786 |
| Mark Glatt | 35 | 6 | 4 | 7 | 17% | 49% | $309,849 |
| Bob Baffert | 22 | 6 | 3 | 4 | 27% | 59% | $360,213 |
| Philip D'Amato | 42 | 4 | 9 | 6 | 10% | 45% | $501,671 |
| Jeff Mullins | 14 | 4 | 5 | 2 | 29% | 79% | $226,782 |
| Brian J. Koriner | 19 | 4 | 4 | 3 | 21% | 58% | $205,575 |
Winning Favorites Report
(Current Through Friday, August 9, 2019 Inclusive)
Winning favorites -- 58 out of 144 -- 40.28%
Winning favorites on dirt -- 39 out of 85 -- 45.88%
Winning favorites on turf -- 19 out of 59 -- 32.20%
Winning odds-on favorites -- 17 out of 27 -- 62.96%
In-the-Money favorites -- 104 out of 144 -- 72.22%
In-the-Money odds-on favorites -- 25 out of 27 -- 92.59%