CA Racing News
Lynne's Legacy Rallies to Win Solana Beach Stakes
Friday, August 9th, 2019
Provided by Del Mar Thoroughbred Club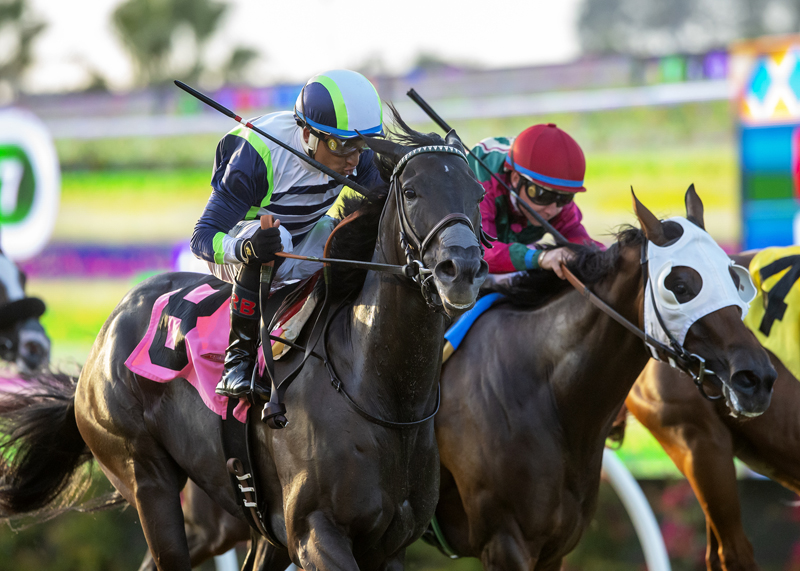 Lynne's Legacy
In a rousing finish, Lynne's Legacy rallied from dead last to forge to the front in the final strides and win the featured $150,000 Solana Beach Stakes for California-bred fillies and mares Friday at Del Mar.
With Rafael Bejarano in the saddle, Lynne's Legacy closed powerfully to win by a neck over 9-5 favored Pulpit Rider, with Don't Sell third another head away and nose in front of Mo See Cal.
However, the order of finish was revised by the board of stewards who posted the inquiry sign after the race. Upon viewing videotape, Pulpit Rider was disqualified from the runner-up spot for interfering with Fiery Lady in mid-stretch. Moved up to second was Don't Sell, followed by Mo See Cal in third and A Walk in the Park in fourth as Pulpit Rider was demoted to sixth in the seven-horse field behind Fiery Lady.
Withdrawn from the one-mile contest on grass were Battleground State, Donut Girl and Sneaking Out.
Lynne's Legacy, sent postward at 4-1, accomplished the distance in a fast 1:33.92 and paid $10, $5 and $3.40 after her sixth success in 35 career races. First money of $85,500 increased the six-year-old Unusual Heat mare's earnings to $437,611. A year ago, she was a distant ninth and last in the Solana Beach.
Lynne's Legacy is owned by Maureen Richardson of Danville, Ca., Richie Robershaw of San Diego and Terri Tucker of Santa Monica. Her trainer is Doug O'Neill.
Don't Sell returned $6.80 and $5, while Mo See Cal paid $3.60 to show.
---
RAFAEL BEJARANO (Lynne's Legacy, winner) – "Good trip for her today. I was glad to see the speed early; she wants to run from the back. I've ridden her before a bunch of times and I've won on her. I know her. And it is always good to ride for Doug (trainer O'Neill). I think he's the best trainer I've ever ridden for. He's never negative, always positive. He gives me lots of confidence. Even if I do something wrong, I might say 'I'm sorry, I screwed up,' he doesn't care. He says 'That's OK. We'll get them next time.' He always makes me feel good. We've been going well so far."
MARIO GUTIERREZ (Don't Sell, finished 3rd, moved to 2nd) – "I thought I was going to win it on my own. She made a good move for me. But then they were closing so hard on the outside and they went by me.
DOUG O'NEILL (Lynne's Legacy, winner) – "This filly is such an honest filly and she'll run two miles if you asked her. The trouble with the mile and a quarter and longer races is that there's no pace to run at. So we thought in this mile race we'd get a good pace to run at, which we did. Hats off to Rafael (Bejarano), he won the race with a perfectly timed ride. It was a lot of fun to watch."
---
FRACTIONS: :22.80 :46.44 1:10.13 1:21.79 1:33.92
The tally was the second of the meet and second (Halo Dolly, 2013) for rider Bejarano in the Solana Beach Stakes. He now has 61 stakes wins at Del Mar, 12th best of all riders.
The victory was the first of the meet and first in the Solana Beach Stakes for trainer O'Neill. He now has 38 stakes wins at Del Mar.
Lynne's Legacy is owned by Maureen Richardson of Danville, CA, Richie Robershaw of San Diego, CA and Terri Tucker of Santa Monica, CA.