CA Racing News
Hronis Brothers Sweep Del Mar Owners' Crown
Monday, September 4th, 2017
Provided by Del Mar Thoroughbred Club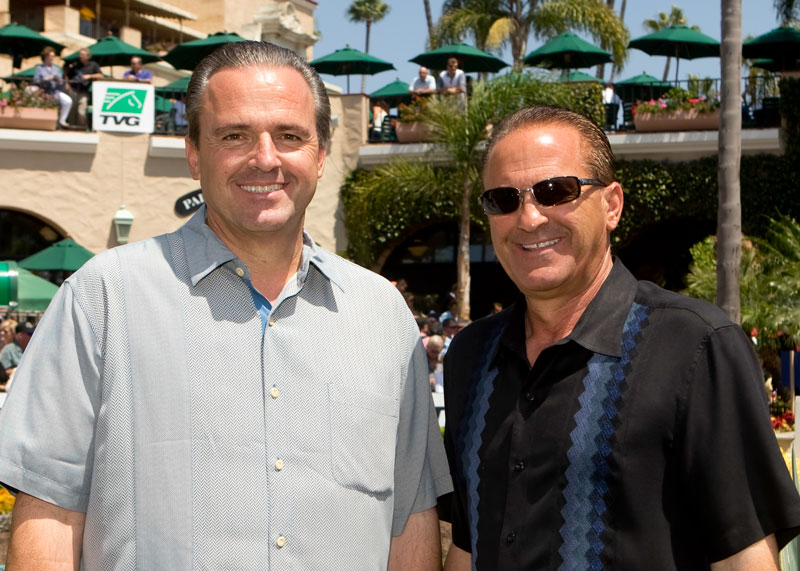 Pete & Kosta Hronis © Benoit Photo
Brothers Pete and Kosta Hronis were Del Mar champs – for the third time – for owners at the 2017 Del Mar summer meet which ended Monday.
During the 36-day session, the pair from Delano, CA, visited the winner's circle on seven different occasions – most among any of the owners at the stand – and also rung up $854,055 in purses, also tops in that category.
The brothers had been the shore track's leading owners in 2014 and 2013 and had been in the top five in both 2016 and 2015.
Their "big" horse during the 2017 session was their champion mare Stellar Wind, who captured this year's running of the Grade I Clement L. Hirsh for the second year in a row. The chestnut speedster now shows earnings of $2,233,200. She is trained by John Sadler, who trains all the Hronis horses.
2017 LEADING OWNERS BY MONEY WON
(From July 19 Through September 04)
| | |
| --- | --- |
| Hronis Racing, LLC | $854,400 |
| Speedway Stable, LLC | $613,000 |
| Reddam Racing, LLC | $390,260 |
| DP Racing | $372,865 |
| Ruis Racing LLC | $337,595 |
OWNER STANDINGS
(July 19 Through September 04, Inclusive.)
| | | | | | | |
| --- | --- | --- | --- | --- | --- | --- |
| Hronis Racing, LLC | 37 | 7 | 5 | 4 | 19 | 43 |
| Reddam Racing, LLC | 37 | 5 | 8 | 1 | 14 | 38 |
| DP Racing | 54 | 5 | 5 | 6 | 9 | 30 |
| Calumet Farm | 20 | 5 | 1 | 2 | 25 | 40 |
| Rockingham Ranch | 39 | 4 | 7 | 7 | 10 | 46 |
| Gary S. Broad | 22 | 4 | 3 | 2 | 18 | 41 |
| Mr & Mrs Larry D. Williams | 20 | 4 | 2 | 1 | 20 | 35 |
| Glen Hill Farm | 13 | 4 | 0 | 5 | 31 | 69 |
| Eclipse Thoroughbred Partners | 17 | 3 | 4 | 3 | 18 | 59 |