CA Racing News
Catalina Cruiser Wins San Diego Handicap
Saturday, July 20th, 2019
Provided by Del Mar Thoroughbred Club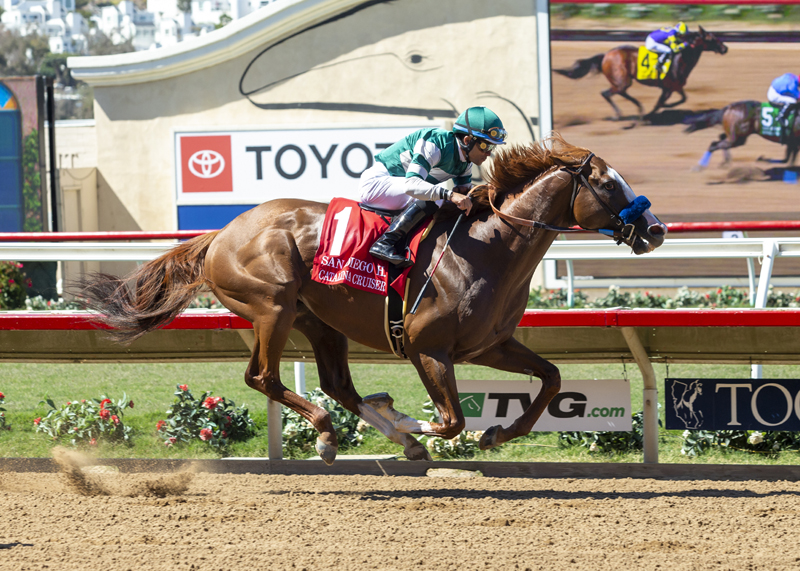 Catalina Cruiser © Benoit Photo
Sent to the gate as the prohibitive 1-9 favorite, Hronis Bros.' classy Catalina Cruiser came through as expected with a workmanlike triumph in the Grade II $200,000 San Diego Handicap Saturday.
With Joel Rosario in from the East Coast to ride, Catalina Cruiser bounced to the lead leaving the gate, was pressed by Draft Pick until the top of the stretch where he opened a clear lead and was not seriously threated in the late stages by a rallying Mongolian Groom.
Recording his second straight success in the San Diego 'Cap, Catalina Cruiser scored by a length in 1:44.20 for the mile and one-sixteenth on the main dirt track. The John Sadler-trained five-year-old son of Union Rags packed highweight of 123 pounds, conceding eight pounds to runner-up Mongolian Groom. Draft Pick was a length and one-quarter farther back in third and four and one-half ahead of Core Beliefs, fourth and last.
Withdrawn from the race were Higher Power and Dr. Dorr.
Catalina Cruiser notched his sixth victory in seven career starts, his only defeat coming in the Breeders' Cup Dirt Mile when he finished sixth to City of Light last November at Churchill Downs. First money of $120,000 increased his earnings to $571,100. Among his successes a year ago was the seven-furlong Pat O'Brien Stakes after which he was voted Del Mar's champion sprinter of the meeting.
With only four horses competing, there was no show wagering. Catalina Cruiser paid $2.20 and $2.10, with Mongolian Groom returning $4.40 to place. There was a minus place pool of $26,649, with $187,446 out of a total place pool of $224,579 bet on the victor.
The San Diego Handicap is the major steppingstone to the Grade I $1 million TVG Pacific Classic at a mile and one-quarter Saturday, August 17.
---
JOEL ROSARIO (Catalina Cruiser, winner) – "I'm sure glad to be here today (his normal racing venue – Saratoga – was closed today due to excessive heat), and especially to ride a nice horse like this. He was comfortable out there. He didn't mind that horse next to him. When it came time to go, he just went ahead and did his job. He's a pro."
ABEL CEDILLO (Mongolian Groom, second) – "We gave it a try late, but that horse (Catalina Cruiser) is just too tough."
MARTIN GARCIA (Draft Pick, third) – "My horse is a really good horse and he tried hard today. But the winner is a monster."
FLAVIEN PRAT (Core Beliefs, fourth) – "My horse didn't try today."
JOHN SADLER (Catalina Cruiser, winner) – "The objective of the other jockeys was obviously to press the pace. But he was running smooth all the way. When you're 1-to-9 there's a lot of conversation about style points and things like that, but he was comfortable all the way. The fractions were slow, but this is not a fast track. We'll check the speed figures and things and we'll see how he comes out of it and decide whether to run in the Pacific Classic or not. We've got options."
---
FRACTIONS: :24.52 :48.94 1:13.04 1:37.71 1:44.20
There was a minus place pool (no show betting) of $26,649. The total place pool was $224,579, of which $187,446 was wagered on the winner to place.
The stakes win by rider Rosario was his first of the meet, but his second (Dakota Phone, 2010) in the San Diego. He now has 27 stakes wins at Del Mar.
The stakes win by trainer Sadler was his second of the meet and his fifth (including the last three) in the San Diego. He now has 69 stakes wins at Del Mar, fifth most among all trainers.
The winner is owned by Hronis Racing, the nom du course of brother Kosta and Pete Hronis of Delano, CA.